Continuing my UK trip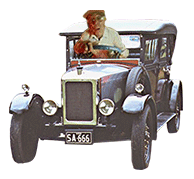 Continuing my UK trip
I definately needed a bit of a rest after a rather hectic time in June meeting up with Selwyn & Jenny Allen, Helen Andrews and Keith Dewhurst to participate in a little part of the
Diamond Jubilee
celebrations. My R&R was abruptly cut short in mid July when our President summoned me to accompany him and his wife to the Armstong Siddeley Owner's Club National Rally at Royal Wootton Bassett in Wiltshire.
With Bill Brenchley and Andy Blatchford to the fore, the extremely hospitable members of the ASOC plied me with copious amounts of food and drink until my inner-man was well and truly satisfied. I have experienced many standards of hospitality during my duties as the club's roving correspondant, but our friends in the UK Club made a huge effort to really make me feel welcome.
With my fears of suffering from alcohol withdrawl (or even from a lack of food) completely alayed, I was able to take my time to leisurly admire the assembled group of Armstrong Siddeleys that included David Tom's 1919 30HP, Simon Pearce's humble Stoneleigh and Steve Dutton's 346 Limousine.
I make particular mention Steve Dutton's 346 Limousine because I scored a ride on one of the tiny little seats in the passanger compartment to get me to the rally. Tony and Tina Carter had (of course) settled themselves into the comfort of the luxurious back seat without the slightest thought for the wellbeing of their elderly travelling companion! A big "thank you" to Steve for providing us with such wonderful transport to and from the Rally.
The site of the Rally at the Atwell-Wilson Motor Museum on Stockley Lane, Calne in Wiltshire was excellent. South-west England had been thoroughly drenched by recent rain, but the hard standing-area in the field allowed the cars to move about without fear of getting bogged.
Following the ASCC National Rally, I ventured to Scotland where I saw a collection of vehicles all owned by Alan Stewart of Strathmiglo near Fife. Alan produced a healthy morning tea and afterwards showed me a small part of his collection that was already displayed on the lawn for my inspection. The group included a series one and a series two Landrover followed by a 1950 Grey Ferguson and an early 1950's Bentley Shooting Brake all in pristine condition.
The Bentley Shooting Brake had been made specifically for his Mother. Alan told me how he had entered the car in a class for unique vehicles at a car show last year and was beaten by an Armstrong Siddeley Pick-up! Now as loyal as I am to Armstrong Siddeleys, the decision appeared to be pretty rough as the Bentley is absolutely beautiful. I unfortunately missed seeing his 1929 Citroen-Kegresse as it was away, being exhibited at another car show. I am extremely grateful to Alan for his great hospitality and for giving me the opportunity to see some of his collection. A fitting end to an enjoyable tour.
Thanks to Tony & Tina for the invitation to join them and (with exception of my seat-position in the 346) for taking care of me.
........Keep Watching My Blogs!