The Siddeley Special Six
| | |
| --- | --- |
| Production period | 1933 to 1937 |
| Number of cars produced | 253 |
| Engine | 6 cylinder, 4960cc, 30HP |
The Siddeley Special Six was produced between 1933 and 1937, with a total production of 253 vehicles.

The 30HP was the company's first model and it had been in continuous production for 14 years since the first cars left the factory in 1919. The Siddeley Special Six was its replacement and it was truly a "car of aircraft quality".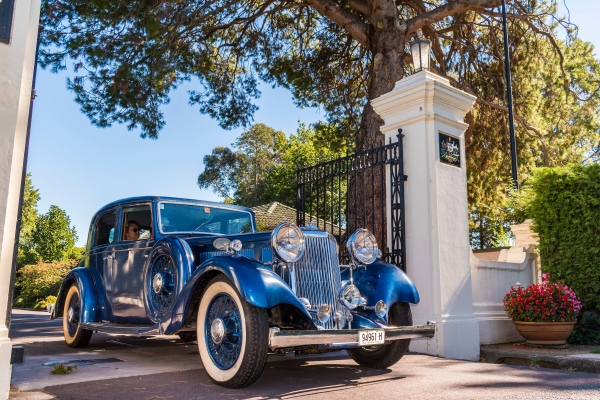 It had a similar sized engine to the 30HP, but here the similarity ended. The crankcase, cylinder block, cylinder head and sump were made of separate castings of hiduminium alloy as were the pistons and connecting rods. Wet cylinder linings were used sealed by a copper and asbestos joint at the top and by a copper diaphram retained by two castellated ring nuts on the liner and cylinder block sleeve, these being tightened by a special spanner.

About the only ferrous metal parts in this remarkable light-alloy power unit were the fully counterbalanced crankshaft that ran in seven bearings and carried a friction-pattern vibration damper at the front and the valve gear which incorporated Fabriol timing gears.
The stainless steel, push rod operated, overhead valves seated upon aluminium- bronze inserts which were screwed, shrunk and then expanded into the cylinder head. The camshaft was driven from the front of the crankshaft and ran in four phosphor-bronze bearings. The crankshaft was also used to drive the oil and petrol pumps.

The car's wheelbase measured 11' 0" with a track of 4' 8". The tourer weighed 38cwt.

Using a 3.6 to 1 top gear, the Siddeley Special Six (in twin carb form) could go from 6 to 93mph in top gear, attain 70mph in third gear and reach 60mph from a standiong start in 18.5 seconds. It had none of the sluggish performance of the 30HP and could cruise quite happily all day at 65mph.

In its first year of production, some consideration was given to entering a Siddeley Special Six in the 1933 Le Mans 24 hours race. Fearing that failure in this highly competitive event would undermine the company's image, Armstrong Siddeley never entered any factory-sponsored vehicles in the race.

Related pages